The ALZRC Devil 380 FAST FBL 6CH 3D Flying RC Helicopter Kit is an exciting and high-performance option for RC helicopter enthusiasts looking to take their flying skills to the next level. Packed with impressive specifications and a comprehensive package, this kit promises an exhilarating flying experience. Let's dive into the details and explore what this helicopter kit has to offer.


Specifications:
The Devil 380 FAST boasts an array of specifications that demonstrate its capabilities:
Main Rotor Diameter: 856mm
Main Blade Length: 380mm
Tail Rotor Diameter: 196mm
Tail Blade Length: 75mm
Main Shaft Diameter: 8mm
Spindle Shaft Diameter: 5mm
Tail Shaft Diameter: 5mm
Tail Spindle Shaft Diameter: 3mm
Maximum Motor Size: 41mm diameter, maximum height 41mm
Battery Compartment: 44x44x130mm
Weight: Approximately 1100g (KIT)
Assembly Requirements:
The Devil 380 FAST is a kit that requires assembly, providing enthusiasts with an engaging and educational experience. To bring this helicopter to life, you'll need the following equipment: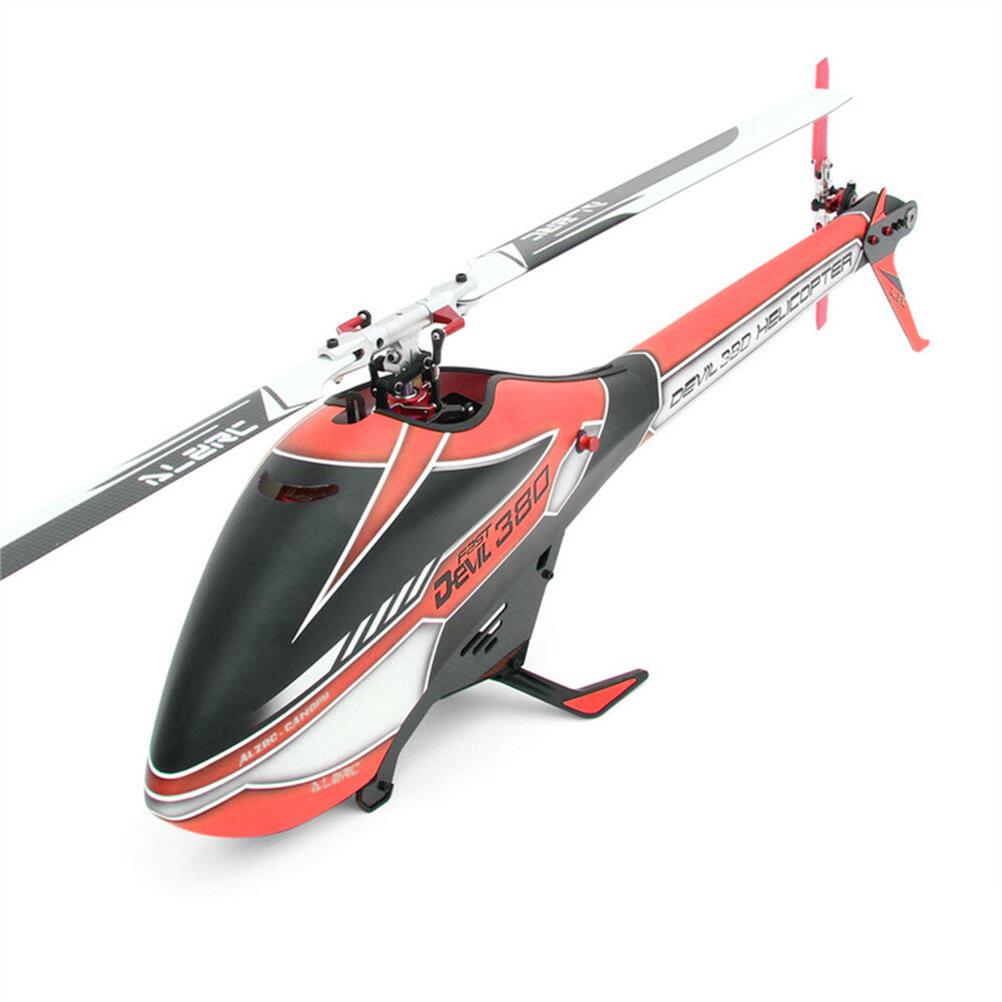 Transmitter: A 6-channel or more helicopter system transmitter
Receiver: A 6-channel or more receiver
Pitch Gauge: Digital pitch gauge for precise adjustments
Battery: A 6S/22.2V 1500~2600mAh Li-Po battery
Motor: RMC-BL3120 1000kv 6S Brushless Motor with a 5mm spindle
ESC: A 50~80A brushless ESC
Swashplate Servos: CCPM micro digital metal servos (x3)
Tail-lock Servo: Medium digital metal servo (x1)
Gyroscope: Flybarless gyro system for improved stability
Plug & Assemble Tools Set

Package Contents:
The package includes:
1x ALZRC Devil 380 FAST KIT
Review:
The ALZRC Devil 380 FAST FBL 6CH 3D Flying RC Helicopter Kit offers a thrilling opportunity for RC enthusiasts to build and experience an impressive 3D flying machine. The specifications reveal a thoughtfully designed helicopter that's primed for agile maneuvers and exhilarating flights. With its sturdy construction and advanced components, this kit is a suitable choice for both intermediate and advanced pilots.
One of the standout features of the Devil 380 FAST is its customization potential. Enthusiasts can select their preferred transmitter, electronic components, and battery to tailor the helicopter's performance to their preferences. This flexibility allows for a personalized and rewarding flying experience.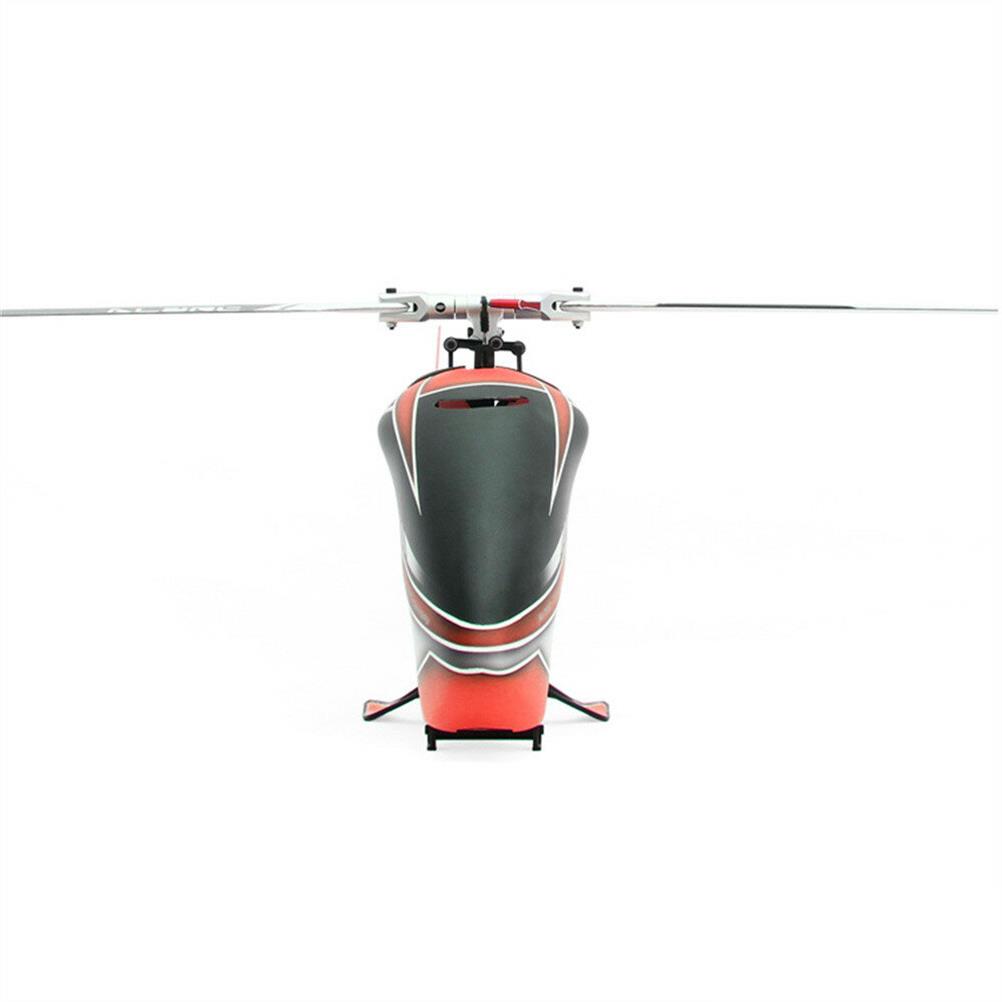 Assembling the kit is a rewarding endeavor that provides a deep understanding of the helicopter's mechanics. The comprehensive package, including the required digital pitch gauge and plug & assemble tools set, supports a smooth assembly process. However, it's important to note that additional components such as the transmitter, ESC, battery, and servos need to be sourced separately.
Once assembled, the Devil 380 FAST showcases impressive flight characteristics. The included flybarless gyro system enhances stability and responsiveness, enabling pilots to perform intricate 3D maneuvers with confidence. The powerful RMC-BL3120 brushless motor and high-quality CCPM micro digital metal servos contribute to the helicopter's overall performance, delivering a dynamic and precise flight experience.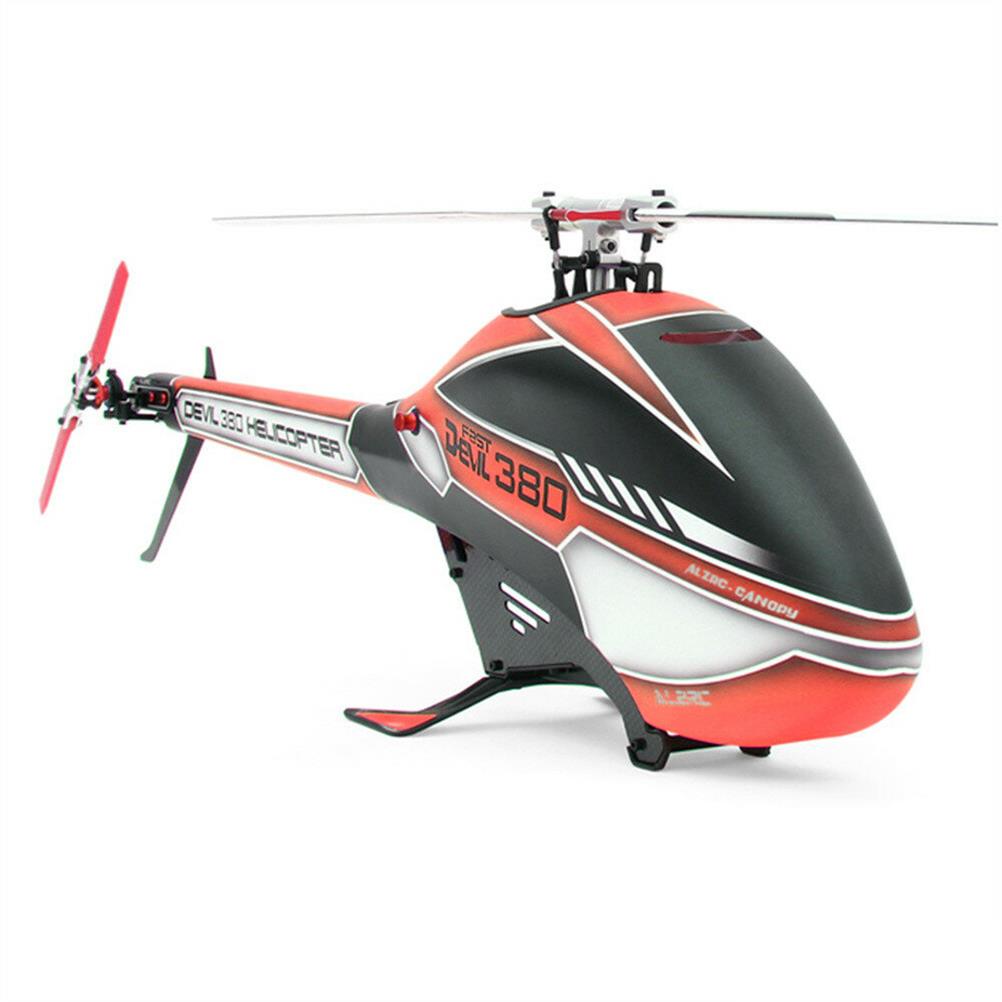 In conclusion, the ALZRC Devil 380 FAST FBL 6CH 3D Flying RC Helicopter Kit is a captivating option for RC enthusiasts who relish the building process and crave an adrenaline-pumping flying experience. Its robust specifications, customization potential, and advanced components make it a valuable addition to any pilot's collection. Aspiring pilots willing to invest time and effort into assembly will be rewarded with an exceptional and high-performing RC helicopter that's ready to dominate the skies.